Jeg "lovede" jo at der ville komme flere fugle, og det gør der. Både nu og senere. Vi besøgte Currumbin Wildlife Sanctuary, hvor der faktisk var gratis entré til den forreste del af parken, hvor de hver morgen og eftermiddag havde (bjerg)lori-fodring. Det er bare bjerglorier der holder til i byen/området som kommer flyvende for at få del i godterne.
I "promised" more birds would come, and so it will be. Now, and later. We visited Currumbin Wildlife Sanctuary, which had free entrance to the front of the park, in which they fed lorikeets every morning and afternoon. It is lorikeets living in the city/area who flies in to take advantage of the situation.
Og det er ikke overdrevet at det var "Crazy". Det var bestemt en helt vildt fed oplevelse, men det var ikke lutter idyl. Når man har de der 10 lorier på tallerkenen ad gangen og flere gerne vil til, så er der dømt kamp på ens arme. Og har man tyndhudede kvindearme som mine, så går der lige et par uger inden armen er helet 😉 Men det var bestem dét værd! Men tag en langærmet trøje på 😉
And "Crazy" isn't exaggerated. It was truly a cool experience, but it wasn't all happy times. When you have 10 lorikeets on the plate at a time and more wants to join, there's gonna be a fight on your arms. And if you have thin-skinned woman-arms like mine, then a couple a weeks will pass before your arm is healed 😉 But it was definitely worth it! But wear a long-sleeved shirt 😉
Efter fodringen kunne man så købe billet til at købe ind i resten af parken.
After the feeding you could buy a ticket for access to the rest of the park.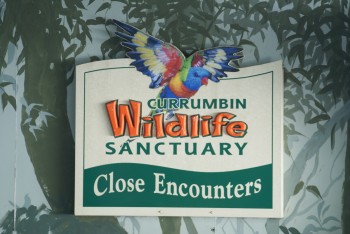 Disse små firben var meget hurtige og og en hel masse farede rundt på skovbunden.
Those tiny lizzards were very fast and there were a lot of them on the forest floor.
Og der var flere fugle, denne gang i et fugleshow.
And there were more birds, this time in a bird show.
Og så blev der lagt op til at en af de farligste fugle i Australien ville komme på scenen…
And then one of the most dangerous birds would arrive at the scene…
Okay, måske var det ikke denne 😉
All right, maybe it wasn't this one 😉
Bemærk, ingen billeder af koalaer eller kænguruer! Det betyder ikke at de ikke var til stede, men tror måske vi allerede her var ved at have set vores andel, så det er ikke der vores fokus var (eller også har jeg bare fået nok af de billeder vi tog af dem 😉 )
Notice, no pictures of koalas or kangaroos! They were there, but I think we were kind of fed up with them already, so they were not our main focus (or maybe I was just fed up watching the pictures of them 😉 )