Der bliver stadig strikket – jeg er bare lidt bagud med dokumentationen 😉 Jeg har jo skrevet om nogle ting der skulle tænkes over, og da det nu er endeligt kan jeg godt afsløre at det er fordi vi har købt hus som vi overtager den 1. januar 2012. Vi flytter til Godthåb – og til dem som ikke er kendt i Aalborg-egnen, kan jeg afsløre at det ikke er på Grønland, men derimod ca. 15 km sydvest for hvor vi bor nu 😉 Og så er der også lige den der tur til Australien som jeg synes trækker tænder ud pga. visum-ansøgninger, bestilling af rejse og legatansøgninger.
Men det jeg egentlig ville vise er hvad jeg har strikket siden sidst 😉 Først er det et pandebånd i noget akrylgarn min mor har købt – og pandebåndet er selvfølgelig til hende 😉 Den skal bare bruges under cykelhjelmen, så udseendet er ikke så vigtigt, men for ikke at kede mig selv helt til døde strikkede jeg perlestrik. Jeg troede der var nok af det røde, men måtte starte på det sorte nøgle (men så fik jeg da også brugt lidt af det 😉 )
I'm still knitting – but behind with the douomentation 😉 I also wrote about stuff which demanded a lot of thought, and now it is final, I can tell you that we bought a house, and we get the keys January 1, 2012. We're moving to Godthåb approximatly 15 km south-west from where we live now. And then there is the trip to Australia which demands attention due to visa applications, order of the trip and applications for funding.
But what I really wanted to show is what I've knitting since last time. First a headband in some acrylic yarn my mother bought – and of course it is for her 😉 It's for use under the bicycle helmet, so the looks doesn't really matter, but not to be bored to death, I knitted seedsts. I thought the red would be enough, but I had to use some of the black skein as well (but then I also used some of that 😉 )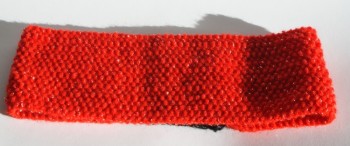 Mønster/Pattern: Slå 19 masker op, perlestrik til ønsket længde, luk af og sy sammen/CO 19 sts, seedsts until desired length, BO and sew together.
Farve/Colour: Rød og sort /Red and black

Garnforbrug/Used yarn: 26 gr = 65 m
Næste færdige produkt er endnu et par tubesokker – en dejlig nem opskrift og stadig god til at få brugt de der små strømpegarnsrester. Denne gang måtte jeg forkorte med et par omgange, men tror ikke det har den store betydning 😉
Next project is another pair of tubesocks – a nice and easy pattern and still good for using up those sockyarn-leftovers. This time I had to shorten it with a couple of rows, but I don't think it will matter.
Garn/Yarn: Sandness Garn Sisu
Farve/Colour: Sort med farver /Black with colors

Størrelse/Size: 12-18 mdr./ months

Garnforbrug/Used yarn: 34 gr = 108 m
Og til sidst har vi en lille cardigan, er ikke helt sikker på størrelsen, da jeg vist strikkede lidt fastere end opskriften anbefalede. Men eftersom jeg kun havde omtrent 2m tilbage af den røde farve var det vist meget heldigt jeg ikke skiftede til større pinde 😉
At last we have this little cardigan, I'm not quite sure of the size, as I knitted a bit tighter than the pattern recommended. But as I only had about 2m of red yarn left, I guess it was lucky that I didn't switch to larger needles 😉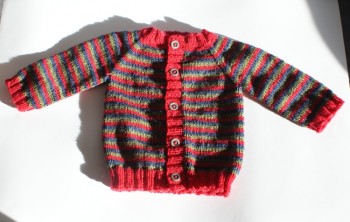 Garn/Yarn: Marianne Svit Supersoft, Holst Garn Supersoft 100% Uld
Farve/Colour: Stratford, Green(?), Poppy

Pinde/Needles: 3.5 for ribbing and 4 mm for rest
Størrelse/Size: 1 år / 1 year

Garnforbrug/Used yarn: 80 gr = 459 m
Garnforbrug i år/Used yarn this year: 2221 gr = 10987 m