Lidt kreativt er det blevet til her for en 14 dage siden, da jeg lavede denne kat.
Sorry, the title cannot be translated to english without losing it's meaning. But I've done a bit of crafting 14 days ago, when I made this cat.
Den er lavet specielt med disse farver og skal forestille en british shorthair i farven creme-hvid med chokoladebrun maske.
It is custom made and supposed to be a british shorthair.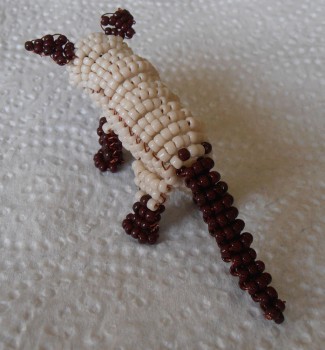 Den mangler lige at tage rejsen til sit nye hjem.
It still hasn't gone on the journey to it's new home.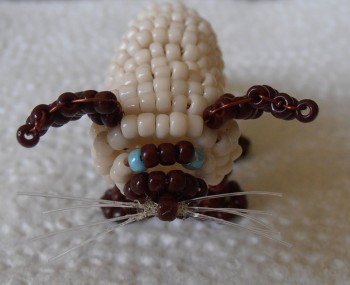 Faktisk har jeg strikket en del de sidste uger som du kan se til højre, men ingenting er færdigt (jeg løb tør for garn i to a projekterne)
In fact I've been knitting some the last couple of weeks as you can see to the right, but nothing is finished yet (on two of the projects I ran out of yarn)
Jeg har været en uge på på konference/workshop i Bruxelles og derefter en uge på ferie i Amsterdam med manden. Men det der har fyldt mest, var at lige inden jeg tog til Bruxelles fik min far en alvorlig lungebetændelse og problemer med mavesår, så han blev lagt i respirator i 5 døgn. Jeg tog alligevel afsted til Bruxelles, men det var svært at sidde så langt væk. Heldigvis opdaterede min mor mig dagligt og de fleste nyheder var gode. Da han var i stand til at trække vejret selv blev han vækket og kom på lungeafdelingen hvor han var i 5 dage inden han kom hjem. Vi var blevet forberedt på at han skulle igennem en længere genoptræning, men han er overraskende frisk. Selvfølgelig har han mistet lidt kræfter og er lidt mere træt end normalt, men han er glad for at være i live og viser det. Desværre mistede han en bror til kræften mens han lå på sygehuset. Min mor skulle også have været i fuld narkose i går for at få lavet et mindre indgreb, men heldigvis viste det sig ikke at være nødvendigt alligevel, så vi var alle glade for at kunne nyde dagen sammen.
I've been at a conference/workshop in Brussels for a week and afterwards a week in Amsterdam for vacation. But I've mostly been thinking of my dad, who before my departure got ill with a serious pneumonia and troubles with ulcer, which ended with him being in a respirator for 5 days. I went to Brussels anyway, but it was hard to be so far away. Luckily  my mother updated me every day and most news where good. When he could breathe by himself he was woken up and stayed for 5 days in the section for lungs in the hospital before he got home. We had been told that the rehabilitation would take a long time, but he seems very well although he has lost some of his strength and is a bit more tired than usually. But he is happy to be alive and is showing it. Unfortunately he lost a brother to cancer while he was at the hospital. My mother was also supposed to be under general anaesthesia yesterday for a smaller surgery, but fortunately it wasn't necessary anyway, so we were all happy to be able to enjoy the day together.