Kan du gætte hvad det her er? Nej? Hvad hvis jeg siger det ikke er til mig? At den for længst skulle være givet væk? At den er til min mor?
Can you guess what this is? No? What if I tell you it's not for me? That it is long overdue? That it's for my mother?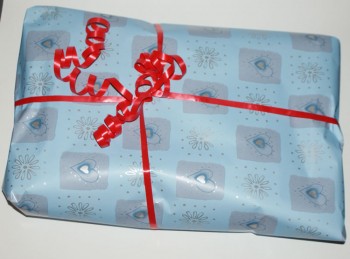 Hvis dit gæt var Promenaden, så fik du ret. Hvis ikke, så bare rolig, man kunne alligevel ikke vinde en præmie 😉
If your answer is the Promenade, then you're correct. Otherwise, don't worry, there wasn't a price anyway 😉
Jeg kunne ikke helt bestemme mig for om den hører til i strik for 2010 eller 2011. Men jeg plejer først at betragte et projekt som færdigt når alle ender er hæftet, så det tilhører nu 2011's strik. Så det starter godt med at strikke fra lageret i 2011 😉 Ikke at jeg har forbudt mig selv at købe garn, men jeg vil gerne have at der ryger mere ud end ind 😉 Det var faktisk hyggeligt nok at strikke, perfekt til når jeg ser mine serier. Jeg ser frem til i morgen, hvor min mor får gaven 🙂
I debated a bit with myself, cause I couldn't decide if it belonged to the knitted items of 2010 or 2011. But I usually only consider a project finished when all ends are weaved in, so it now belongs to the pile of 2011. So I have had a good start at knitting from the stash in 2011. Not that I have forbidden myself from buying yarn, but I would like to see more go out than in 😉 It was actually a nice project to knit, perfect for watching my series. I'm looking forward to tomorrow, where I will give my mother the gift.
Mønster/Pattern: Promenade af Hanne Falkenberg
Garn/Yarn: Holst 100% uld
Farve/Colour: Aubergine, Peony, Poppy, Venetian, Bleached White

Størrelse/Size: Den korte version / The short version

Garnforbrug/Used yarn: 329 gr = 1889 m
Garnforbrug i år/Used yarn this year: 329 gr = 1889 m
I virkeligheden vejer det kun 300 gram, men jeg plejer at veje garnresterne, således at mit garnlager stemmer.
In reality it only weighs 300 grams, but I usually weigh my yarn left overs, so my stash amount is correct.